£15.99 each
£14.39 if you buy 2+ (10% off)
£13.59 if you buy 3+ (15% off)
Catalogue No: Z14068
Shop Product Code: 164641Q
More Product Codes
More Product Codes
3089008459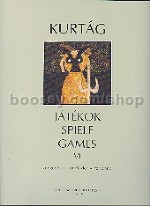 The idea of composing 'Games' was suggested by children playing spontaneously, children for whom the piano still means a toy. They experiment with it, caress it, attack it and run their fingers over it. They pile up seemingly disconnected sounds, and if this happens to arouse their musical instinct they look consciously for some of the harmonies found by chance and keep repeating them.
Thus this series does not provide a tutor, nor does it simply stand as a collection of pieces. It is a possibility for experimenting and not for learning "to play the piano".

Pleasure in playing, the joy of movement - daring and if need be fast movement over the entire keyboard right from the first lessons instead of clumsy groping for keys and the counting of rhythms - all these rather vague ideas lay at the outset of the creation of this collection.

Playing - is just playing. It requires a great deal of freedom and initiative from the performer. On no account should the written image be taken seriously but the written image must be taken extremely seriously as regards the musical process, the quality of sound and silence. We should trust the picture of the printed notes and let is exert its influence upon us. The graphic picture conveys an idea about the arrangement in time of even the most free pieces.

We should make use of all that we know and remember of free declamation, folk-music parlando-rubato, of Gregorian chant and of all that improvisational musical practice has ever brought forth.

Let us tackle bravely even the most difficult task without being afraid of making mistakes: we should try to create valid proportions, unity and continuity out of the long and short values - just for our own pleasure!

Show
Contents and Reviews
Contents
Születésnapra Antal Dórának
Születésnapra Antal Dórának 2. változat
Versetto: Temptavit Deus Abraham
Versetto: Consurrexit Cain adversus fratrem suum ...
Versetto: Dixit Dominus ad Noe: finis universe carnis venit
Vízözön-szirénák
Apokrif himnusz
Virág Nuriának
Päan
Levél Teoke Marianne-nak
Majomkodás
Magyar nyelvlecke külföldieknek
Alapelemek (1)
Alapelemek (2)
Didarida didadi...
Phan!
Fel, fel, hangok!
Ál-módoz-va (az elsüllyedt katedra)
Karácsonyi üdvözlet Hajninak
Keringo
Üzenet Szollosy Andrásnak
Marina Tsvetayeva: It's Time
Járdányi Pál emlékére
Do-Mi D'arab
Les Adieux (in Janáceks Manier)
Hajdú András 60 éves!
Még az édes méz is ...
Szeszler Tibor emlékezete
Születésnapi elégia Juditnak
Doina
Halk búcsú Székely Endrétol
Mándy Stefániának
Vass Lajos emlékére
...waiting for Susan
Ligatura x
Ligatura y
Lendvai Erno in memoriam
Még egy szó Lendvai Ernohöz
Sorok Sirokay Zsuzsinak
Dr. Nádor György, Veroce gyógyítójának
Szemtol-szembe (Demény János in memoriam)
... humble regard sur Olivier Messiaen
Mihály András emlékére
Reviews


There are currently no reviews for this product.
You May Be Interested In
Also By This Composer