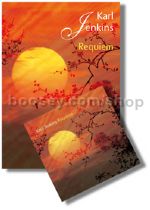 Status: Usually despatched within 24 - 48 hours
Subtitle: SPECIAL OFFER PACK: Vocal Score plus EMI Audio CD at an exclusive reduced price!
Department: Choral - Choral Vocal Score
"The Requiem is dedicated to the memory of my father who was a musician, friend and inspiration. It was a moving and rewarding time for me when composing this work, with its blend of traditional Latin text combined with the haiku poems from Japan, and a thrill to bring what are seemingly disparate elements together, such as a fabulous orchestra from Kazakhstan, the best of Welsh choirs, and our brilliant soloists." —Karl Jenkins

Please note that this special offer cannot be used in conjunction with any other discounts or promotions.
Show
Contents and Reviews
Contents
01. Introit
02. Dies irae
03. The snow of yesterday
04. Rex tremendae
05. Confutatis
06. From deep in my heart
07. Lacrimosa
08. Now as a spirit
09. Pie Jesu
10. Having seen the moon
11. Lux aeterna
12. Farewell
13. In paradisum
Reviews


There are currently no reviews for this product.
You May Be Interested In