£13.99 each
£12.59 if you buy 2+ (10% off)
£11.89 if you buy 3+ (15% off)
Catalogue No: Z08379
Shop Product Code: 1646384
More Product Codes
More Product Codes
0008990076395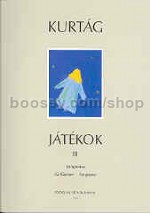 The idea of composing 'Games' was suggested by children playing spontaneously, children for whom the piano still means a toy. They experiment with it, caress it, attack it and run their fingers over it. They pile up seemingly disconnected sounds, and if this happens to arouse their musical instinct they look consciously for some of the harmonies found by chance and keep repeating them.
Thus this series does not provide a tutor, nor does it simply stand as a collection of pieces. It is a possibility for experimenting and not for learning "to play the piano".

Pleasure in playing, the joy of movement - daring and if need be fast movement over the entire keyboard right from the first lessons instead of clumsy groping for keys and the counting of rhythms - all these rather vague ideas lay at the outset of the creation of this collection.

Playing - is just playing. It requires a great deal of freedom and initiative from the performer. On no account should the written image be taken seriously but the written image must be taken extremely seriously as regards the musical process, the quality of sound and silence. We should trust the picture of the printed notes and let is exert its influence upon us. The graphic picture conveys an idea about the arrangement in time of even the most free pieces.

We should make use of all that we know and remember of free declamation, folk-music parlando-rubato, of Gregorian chant and of all that improvisational musical practice has ever brought forth.

Let us tackle bravely even the most difficult task without being afraid of making mistakes: we should try to create valid proportions, unity and continuity out of the long and short values - just for our own pleasure!

Show
Contents and Reviews
Contents
1. Stop and Go
2. Play with Infinity
3. The Mind Will Have its Freedom...
4. (thus it happened...)
5. (quiet talk with the devil)
6. (five-finger play - cromatic exercise)
7. (Scherzo)
8. Dirge (1)
9. Pen Drawing, Valediction to Erzsébet Schaár
10. Portrait (2)
11. Russian Dance
12. Thistle

13. Elegy for the left hand

14. Tumble-bunny

15. (sorrowful tune)
16. Shadow-play (3)

17. Hommage a Ránki György
18. Hommage a Zenon ( Achilles and the tortoise, or overtake your other hand)
19. (... and round and round it goes)
20. Double notes
21. Signs in Black

22. Stubborn Knots

23. Hommage a Schubert
24. Hommage a Petrovics
25. Hommage a Farkas Ferenc (2) Scraps of a colinda melody - faintly recollected
26. Hommage a Farkas Ferenc (3) (evocation of Petrushka)
27. Hommage a Farkas Ferenc (4) (Adoration, adoration, accursed desolation...)
28. Hommage a Moussorgsky
29. Hommage a Szervánszky - Silence
30. Dirge (2)
31. Hommage a Christian Wolff (Half-asleep)
32. Hommage a Domenico Scarlatti
33. Hommage a Borsody László (Harmonica)
34. Hommage a Verese
35. Stubbunny
36. Play with Overtones (4)
37. Five-finger Quarrel
38. Portrait (3)
39. Hommage a Kurtág Márta
40. 12 new microludes - 1.
41. 12 new microludes - 2.
42. 12 new microludes - 3. Labyrinthine D
43. 12 new microludes - 4.
44. 12 new microludes 5. Hommage a Szabó Ferenc (Tune)
45. 12 new microludes - 6. Hommage a Somlyó György - Shadow-play (4)
46. 12 new microludes - 7. Hommage a Mihály András
47. 12 new microludes - 8.
48. 12 new microludes - 9. Obstinate A flat
49. 12 new microludes - 10.
50. 12 new mikroludes - 11. Hommage a J.S.B.
51. 12 new microludes - 12. Hommage a Stockhausen

Reviews


There are currently no reviews for this product.
Also By This Composer