£15.99 each
£14.39 if you buy 2+ (10% off)
£13.59 if you buy 3+ (15% off)
Catalogue No: Z14002
Shop Product Code: 164640F
More Product Codes
More Product Codes
0009990812174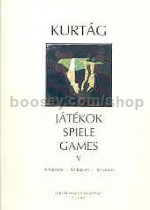 The idea of composing 'Games' was suggested by children playing spontaneously, children for whom the piano still means a toy. They experiment with it, caress it, attack it and run their fingers over it. They pile up seemingly disconnected sounds, and if this happens to arouse their musical instinct they look consciously for some of the harmonies found by chance and keep repeating them.
Thus this series does not provide a tutor, nor does it simply stand as a collection of pieces. It is a possibility for experimenting and not for learning "to play the piano".

Pleasure in playing, the joy of movement - daring and if need be fast movement over the entire keyboard right from the first lessons instead of clumsy groping for keys and the counting of rhythms - all these rather vague ideas lay at the outset of the creation of this collection.

Playing - is just playing. It requires a great deal of freedom and initiative from the performer. On no account should the written image be taken seriously but the written image must be taken extremely seriously as regards the musical process, the quality of sound and silence. We should trust the picture of the printed notes and let is exert its influence upon us. The graphic picture conveys an idea about the arrangement in time of even the most free pieces.

We should make use of all that we know and remember of free declamation, folk-music parlando-rubato, of Gregorian chant and of all that improvisational musical practice has ever brought forth.

Let us tackle bravely even the most difficult task without being afraid of making mistakes: we should try to create valid proportions, unity and continuity out of the long and short values - just for our own pleasure!

Show
Contents and Reviews
Contents
Postface a Kocsis Zoltán
Hommage a Kadosa 75.
Virág a virág...
Greeting - for Imre Hermann' 90th birtday
Kondor Rock (in the manner of the aging Liszt)
A Voice in the Distance (For Alfred Schlee's 80th birthday)
La fille aux cheveux de lin - enragée
Double Consolation (for Janka Szendrei and myself)
Flowers we are... (in memoriam Árpád Illés)
Les Adieux
Prelude and Chorale
Preface to a Bálint exhibition
A Flower for Gabriella Garzó
Jubilate
The little Squall
Bells for Margit Mándy
Bell-fanfare for Sándor Veress
Flowers we are... (from the Sayings of Péter Bornemisza, III. 3.)
Grassblades in memory of Klára Martyn
Like the flowers of the field...
Farewell to Pál Kadosa
Fanfare to Judit Maros' wedding
In memoriam György Kósa
The very last conversation with László Dörnyei
Organ and Bells in memory of Doctor László Dobszay
In memoriam Erna Czövek
Guillaume Apollinaire: L'Adieu
Flaring up-dying down
Fanfares
An apocryphal hymn (in the style of A. Schnittke)
Voice in the Distance II (Hommage a Alfred Schlee 85)
(...Iovely greetings to Grete Spinnrad)
Capriccioso - luminoso
Reticent Question
Waltz
Retocemt Question
Valse (la sauterelle dévote)
Enfolding Sounds
Dialog for the 70th birtday of András Mihály
Flower and Thistle to S. W.
Fareqell, S. W.
3 in memoriam - In memoriam György Szoltsányi
3 in memoriam - Hommage tardif a Karskaya
3 in memoriam - In memoriam Maurice Fleuret
Reviews


There are currently no reviews for this product.
Also By This Composer