$14.62 *

* Estimated price converted from UK retail price
Catalogue No: AM990374
Shop Product Code: 200855X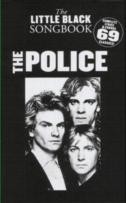 Police Little Black Songbook. A pocket-sized collection of every song by The Police presented in chord songbook format.

All 69 songs come complete with lyrics & guitar chords, Includes the classic hits .. Can't Stand Losing You, Don't Stand So Close To Me, Every Breath You Take, Every Little Thing She Does Is Magic, Invisible Sun, Message In a Bottle, Roxanne, Walking On The Moon, So Lonely, Too Much Information, King of Pain, Demolition Man, Darkness, Fall Out, How Stupid Mr Bates, and more.
Show
Contents and Reviews
Contents
A kind Of Loving A Sermon Be My Girl, Sally Behind My Camel Bombs Away Born In The 50s Bring On The Night Canary In A Coalmine Can't Stand Losing You Contact Darkness De Do Do Do, De Da Da Da Dead End Job Deathwish Demolition Man Does Everyone Stare Don't Stand So Close To Me Driven To Tears Every Breath You Take Fall Out Flexible Strategies Friends Hole In My Life How Stupid Mr Bates Hungry For You (J'aurais Toujours Faim De Toi) I Burn For You Invisible Sun It's Alright For You King Of Pain Landlord Low Life Man In A Suitcase Masoko Tanga Message In A Bottle Miss Gradenko Mother Murder By Numbers Next To You No Time This Time Nothing Achieving O My God Omegaman On Any Other Day Once Upon A Daydream One World (Not Three) Peanuts Regatta De Blanc Rehumanize Yourself Roxanne Secret Journey Shadows In The Rain Shambelle So Lonely Someone To Talk To Spirits In The Material World Synchronicity I Synchronicity Ii Tea In The Sahara The Bed's Too Big Without You The Other Way Of Stopping Too Much Information Truth Hits Everybody Visions Of The Night Voices Inside My Head Walking In Your Footsteps Walking On The Moon When The World Is Running Down You Make The Best Of What's Still Around Wrapped Around Your Finger
Reviews
There are currently no reviews for this product.
You May Be Interested In
Also By This Composer