RRP: $41.38 *
Now: $35.18 *

* Estimated price converted from UK retail price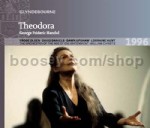 Cast
Valens Frode Olsen bass
Didymus David Daniels counter-tenor
Septimius Richard Croft tenor
Theodora Dawn Upshaw soprano
Irene Lorraine Hunt mezzo-soprano
Messenger Michael Hart-Davis tenor
William Christie conductor, continuo
Orchestra of the Age of Enlightenment
The Glyndebourne Chorus Christopher Moulds chorus
master

Here for the first time on CD is Glyndebourne's acclaimed
1996 production of Handel's oratorio Theodora. Although
Theodora is a story of a virtuous woman and sexual
persecution, this has not proved to be an obstacle to its
enduring success, the subject a deeply touching one,
resonating from the age of antiquity to the present day.
The recording is the debut on the Glyndebourne label
for the Orchestra of the Age of Enlightenment, one of
Glyndebourne's two resident orchestras.

This audio release, in no way detracting from the
extraordinary Peter Sellar's production, allows the focus to
be on the soloists, conductor and orchestra. This recording
confirms Lorraine Hunt as a true Handelian, capturing the
spirit of Irene as few others could. In counter-tenor David
Daniels as Didymus, there is a breadth of range drawing the
listener away from the oft strained and forced falsetto sound.
From the outset Dawn Upshaw is a heartfelt Theodora
culminating magnificently in her final duet with Daniels
'Thither let our hearts aspire…' the delivery, sensitivity and
ensemble nothing short of numbing.

There is no better choice of debut release from the Orchestra
of the Age of Enlightenment on the Glyndebourne label,
William Christie's musical approach one of transcendence,
making the most of this wonderful music.
Great opera performances are often fleeting moments in time
but since 1960, every note of every Glyndebourne Festival
performance has been recorded. 'Eaves-dropping' on these
live performances allows some of the most seminal opera
performances of the last fifty years to be enjoyed by all.
Show
Write a Review. The best reviewer each month wins 20% off their next order!
There are currently no reviews for this product.
You May Be Interested In