$12.06 *

* Estimated price converted from UK retail price
Catalogue No: 0571533949
Shop Product Code: 243705D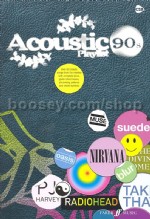 Acoustic Playlist 90's Guitar. Music book contains over 60 classic songs from the 90's with complete lyrics,guitar, chord boxes strumming patterns and chord symbols. Songs inc, Angels, Back for Good, Drugs Don't Work, Lilac Wine, If It Makes you Happ, Perfect, Wild One, I Saved the World Today, Sleeping Satellite, Firework, Glastonbury Song, Jesus to a Child, Losing my Religion, Unbreak my Heart.. Mr Jones, For your Babies, Kinky Afro, It' a Shame about Ray, Iris, It Ain't Over Till It's Over.

Published by Faber Music.
Show
Contents and Reviews
Contents
1.About A Girl (Unplugged) (Nirvana) 2.Achy Breaky Heart (Billy Ray Cyrus) 3.Angels (Robbie Williams) 4.Back For Good (Take That) 5.Bitch (Meredith Brooks) 6.Breakfast At Tiffany's (Deep Blue Something) 7.Cat's In The Cradle (Ugly Kid Joe) 8.C'mon Billy (P J Harvey) 9.Coffee & TV (Blur) 10.Crazy (acoustic version) (Seal) 11.Dagenham Dave (Morrissey) 12.Dance The Night Away (The Mavericks) 13.The Drugs Don't Work (The Verve) 14.Fireworks (Embrace) 15.The First Time Ever (I Saw Your Face) (Alison Moyet) 16.Frozen (Madonna) 17.Glastonbury Song (The Waterboys) 18.Good Riddance (Time Of Your Life) (Green Day) 19.How Do I Live (LeAnn Rimes) 20.Hunter (Dido) 21.I Saved The World Today (Eurythmics) 22.If It Makes You Happy (Sheryl Crow) 23.Iris (Goo Goo Dolls) 24.It Ain't Over Till It's Over (Lenny Kravitz) 25.It's A Shame About Ray (Lemonheads) 26.Jesus To A Child (George Michael) 27.Karma Police (Radiohead) 28.Kinky Afro (The Happy Mondays) 29.Kiss Me (Sixpence None The Richer) 30.Lilac Wine (Jeff Buckley) 31.Losing My Religion (R.E.M.) 32.Love Burns (Black Rebel Motorcycle Club) 33.The Man Who Sold The World (Nirvana) 34.Make No Sound (Gomez) 35.Mmm Bop (Hanson) 36.Mmmm Mmmm (Crash Test Dummies) 37.Movin' On Up (Primal Scream) 38.Moving (Supergrass) 39.Mr Jones (Counting Crows) 40.Muscle Museum (acoustic version) (Muse) 41.Ordinary World (Duran Duran) 42.Perfect Day (Lou Reed) 43.Runaway Train (Soul Asylum) 44.Save Tonight (Eagle Eye Cherry) 45.Say Hello Wave Goodbye (David Gray) 46.Say What You Want (Texas) 47.Secret Smile (Semisonic) 48.Sleeping Satellite (Tasmin Archer) 49.Slight Return (The Bluetones) 50.Songs Of Love (The Divine Comedy) 51.Sonnet (The Verve) 52.Stars (Simply Red) 53.Stay Together (Suede) 54.Staying Out For The Summer (Dodgy) 55.Street Spirit (Fade Out) (Radiohead) 56.This Is A Low (Blur) 57.Torn (Natalie Imbruglia) 58.Truly, Madly, Deeply (Savage Garden) 59.Tubthumping (Chumbawamba) 60.Unbreak My Heart (Toni Braxton) 61.Under The Bridge (Red Hot Chili Peppers) 62.Virtual Insanity (Jamiroquai) 63.Waking Up (Elastica) 64.Walking After You (Foo Fighters) 65.What Do You Want From Me? (Monaco) 66.Whatever (Oasis) 67.What's Up (4 Non Blondes) 68.Wicked Game (Chris Isaak) 69.Wild Ones (Suede) 70.You And Me Song (Wannadies) 71.You Get What You Give (New Radicals) 72.You're In A Bad Way (Saint Etienne)
Reviews
There are currently no reviews for this product.
You May Be Interested In