Catalogue No: 30062BCD
Shop Product Code: 257797E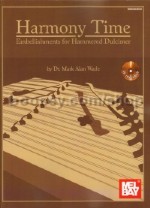 This book and accompanying audio offer an in-depth look at how to add accompaniment and embellishments to melodies on the hammered dulcimer. The material covered in this book illustrates how to enhance simple melodies to showcase their inherent musicality. Full of illustrations, examples, preparatory exercises and easy-to-play arrangements, this book is sure to bring new character to your playing. It begins by explaining, in simple terms, how and why harmony works and teaches the solutions to the common exceptions you will encounter. By the end, you will be able to apply the four most common methods dulcimer players use to add accompaniments to melodies. Note-for-note transcriptions of fully arranged songs from the author's own repertoire are also included.
Show
Contents and Reviews
Contents
Harmony Made Easy: Basic Music Theory
Discovering Intervals
Building Blocks of Harmony
Parallel 3rds
Tricks of the Trade
Scale Boxes
From Theory to Practice
Instant Harmony: Parallel 3rds
Instant Harmony: Parallel 3rds
Using Your Ears
When 3rds Do Not Work and Why
Instant Harmony: Parallel 6ths
Why Parallel 6ths Work
Finding Parallel 6ths
From Theory to Practice
Parallel 6ths in the Key of D
Parallel 6ths in the Key of G
Parallel 6ths in the Key of C
Parallel 6ths in the Key of A
Parallel 6ths in the Key of (Treble) D
Parallel 6ths in the Key of (Treble) G
Parallel 6ths Harmony in Context
Harmonizing with Parallel 3rds and 6ths
Experimenting with 3rds and 6ths
Shall We Gather at the River
Adding Accompaniments to Melodies
How Do You Know What Chords to Add and Where
Rolled Chords
Descending Arpeggio Style
Down and Back Style
Piano-Style Accompaniment
From Theory to Practice
Si'Bheag Si'Mhor
Southwinds
Home Sweet Home
Amazing Grace
Last Rose of Summer
'Tis So Sweet to Trust in Jesus
Warm-Up and Preparatory Exercises
Warm-Up Ditties for Dulcimer in D
Warm-Up Ditties for Dulcimer in G
Basic Training
Glossary
Reviews


There are currently no reviews for this product.