Catalogue No: 9780193683198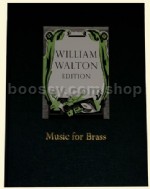 This volume brings together all the music Walton wrote for brass throughout his life, from the various fanfares, often written for ceremonial occasions, to the more extended work, The First Shoot, a piece which the editor of this volume, Elgar Howarth, was instrumental in bringing to life. The volume includes full critical apparatus and selected facsimiles of manuscript pages.

Show
Contents and Reviews
Contents
Fanfare for a Great Occasion
A Queen's Fanfare
Fanfare for the National
Anniversary Fanfare
Roaring Fanfare
Medley
Salute for Sir Robert Mayer on his 100th Anniversary
Introduction to the National Anthem
The First Shoot
A Birthday Fanfare
Reviews


There are currently no reviews for this product.
You May Be Interested In