Catalogue No: M051660483
ISMN: 9790051660483
Shop Product Code: 166020C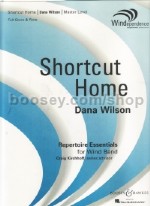 Shortcut Home is a rousing fanfare that features each selection of the ensemble. With an exciting drive and jazz-based interludes, the piece cascades towards its 'home' of C-major. Under three minutes long, Shortcut Home is a perfect attention-grabber for the beginningor end of a concert.
Show
Contents, Sound Samples and Reviews
Reviews
"Great piece. I love the rhythmic variation and jazz influence, especially for concert band.

Is there an errata sheet for this piece? I found a few sections that may contain errors, most specifically measure 41 in the alto sax. The part ends on a C and I believe it should be a C#."
Rating:
21/01/2010 By: Kawika