Bach's Complete Organ Works from Breitkopf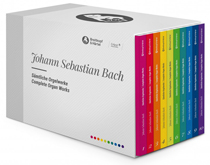 After years of intensive research, Breitkopf's edition of the complete organ works of Johann Sebastian Bach has finally come to an end.
More than forty years after Breitkopf's previous edition, these new publications reflect more recent scholarly research on Bach, as well as aspects of historically-informed performance practice. Furthermore, they take into account the needs of performers, giving thought to more practical matters such as paper quality, convenient page-turns, and an easily legible layout.
The series includes all of Bach's "clavier" works which require an independent pedal (including the four Duetti printed in Part III of the Clavierübung), as well as authentic early versions, fragmentary works, and dubious works that can be attributed to Bach with considerable certainty. As a bonus, dubious works for which Bach's authorship cannot be determined are available online with commentary, and can be printed out.