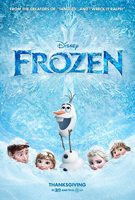 Vuelie is the opening musical number for the 2013 Disney animated feature Frozen. The song, inspired by Norwegian culture, is composed by Frode Fjellheim.
The song is a combination of Saami yoiking and the Danish Christmas hymn "Dejlig er jorden"/"Fairest Lord Jesus". Composed by Frode Fjellheim. The original hymn is composed by the Danish composer B.S. Ingemann.

Eatnemen Vuelie is inspired by the traditional Sami "Yoik." York is a very old vocal tradition among the Sami people of Scandinavia and Russia. Typical of this tradition is the use of short melodic phrases that repeat endlessly with small variations. For children's choir or women's choir (SSAA), sythesizer, percussion and solo medium voice. German, English and Norwegian versions of the text.