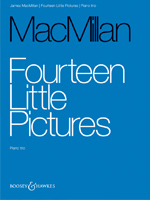 Written for piano trio, this set of 14 separate miniatures are stitched together and interwoven to form a single through-composed work.
The music presents the members of the trio in a series of different contexts, sometimes all three having equal importance, sometimes individuals coming to the fore, and sometimes reduced to a duo or even to a solitary player.

The work was commissioned by the BBC to mark the 25th anniversary of the collaboration of Peter Frankl, György Pauk and Ralph Kirshbaum, and was first performed by them on 21 May 1997 at the Wigmore Hall, London.