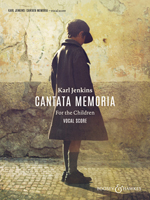 The 50th anniversary of the Aberfan tragedy in Wales is commemorated by Karl Jenkins in his Cantata Memoria.
The latest choral work by Welsh composer Karl Jenkins is Cantata Memoria, commissioned by S4C to commemorate the 50th anniversary of the disaster on 21 October 1966 when a coal spoil tip enveloped a school and houses in the South Wales village of Aberfan, killing 116 children and 28 adults. Cantata Memoria bears the subtitle For the children and, as well as remembering the tragic Welsh catastrophe and its aftermath, mourns the loss of children in universal terms, as witnessed in the Dunblane shooting (1996), the Beslan school siege (2004), the Korean ferry disaster (2014) and the Peshawar School massacre (2014).

Cantata Memoria is scored for chorus – both mixed and young voices, baritone and soprano vocalists, orchestra with prominent solos for violin, euphonium and harp, and sets a libretto by poet Mererid Hopwood.