New: The Developing Classical Singer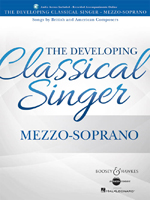 Compiled from the rich Boosey and Hawkes vocal catalogue, with songs in English by British and American composers. Four volumes cover the full vocal range.
The selection of songs is for the teenage voice, early level collegiate singer, or an adult amateur taking voice lessons. Songs by: Britten, Copland, Duke, Finzi, Head, Ireland, Purcell, Quilter, Rorem, Vaughan Williams, Warlock and many more.