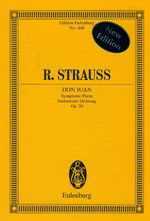 Representing great value many of the published works featured in this year's BBC Proms include music by Elgar, Strauss and Stravinsky.
Numbering more than 1,200 titles the Eulenburg miniature scores' catalogue has a comprehensive range, comprising authoritative and competitively-priced editions of enormous value to students, performers, and music lovers generally.

Ernst Eulenburg (1847-1926) founded his publishing firm in Leipzigin 1874, initially producing educational and choral music. In the 1890s he acquired two miniature scores' catalogues – one of chamber music the other of orchestral works – which thus combined provided a valuable and representative core of the Classical repertoire. Much of the subsequent expansion and development of the miniature score series was overseen by Ernst's son Kurt Eulenburg (1879-1982), who joined the firm in 1905.