The Latest Bärenreiter Publications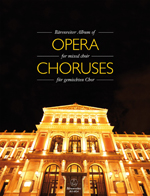 Including the Bärenreiter Album of Opera Choruses, Bach's Suites, Partitas, Sonatas transcribed for Harpsichord and Beethoven's Three Sonatas for Pianoforte.
Further works include Joseph Haydn's Symphony in C major with full score, wind set and individual parts now available, Mozart's Concerto for Pianoforte and Orchestra no. 26 D major K. 537 "Coronation Concerto" and the Complete Organ Works of Pierre-Max Dubois.