Dean, Brett
:
Beggars and Angels
(1999) 26'
Music for orchestra
Scoring
4(I,II,III=picc,IV=afl).3(III=corA).4(II=Ebcl,III,IV=bcl).3(III=dbn)-6.4.3.1-timp.perc(4):I=vib/xyl/glsp/roto-toms/sizzle cym/2chin.cym/rainpipe/ratchet/2bongos/SD; II=drum kit/t.bells/cyms/3chin.cym/lg BD/tamb/4tuned metal plates; III=3tam-t/5tom-t/2chin.cym/5susp.cym/whip/2tgl/SD/TD/tamb/3wdbl/roto-toms/cabaca; IV=marimba/3tgl/crot/SD/lg BD/t.bells/2metal lids/3wdbl/ratchet/2chin.cym/5tuned metal plates-harp-pft(=cel)-strings.
Abbreviations
(PDF).
Territory
This work is available from Boosey & Hawkes for the world.
World Premiere
04/11/1999
Melbourne, VIC
Melbourne Symphony Orchestra / Markus Stenz
Programme Note
Deutsch
You probably wouldn't expect to find beggars and angels sharing a room. But they did just that one cold December in 1994. The occasion was an exhibition, the venue an 18th century coach-house in Potsdam, near Berlin. The artists were sculptor Trak Wendisch and painter Heather Betts.
Wendisch's larger-than-life beggars were inspired by his travels in Brazil. They were uncomfortably confrontational, yet oddly moving. Betts' oil-painting angels were airy beings in a world of vivid colour and intensely emotional detail. But, as Tagesspiegel art critic Tanya Lieske observed, "whoever looks closely will discover other relationships: some of the angels are spitting images of the beggars."
Since the artists had not seen each other's figures before the exhibition, the similarities were purely coincidental.
Or were they?
The tensions and confluences between these apparent opposites fascinated Brett Dean, Betts' husband. The ambivalent angels of poet Rainer Maria Rilke's Dueno Elegies became the inspiration for his 1996 piano quintet "Voices of Angels". "Intimate Decisions", written in the same year for solo viola, explored more etherial realms, as well as the earthy matter of human conflict.
A year later, the Melbourne Symphony Orchestra commissioned a major orchestral work from Dean. In the composer's conceptual world, the most seemingly incompatible elements are freed to explore their relationships with one another. It seemed logical, then, to develop a work for solo viola into a piece scored for the largest orchestral configuration available - full contingents of wind and brass, a battery of percussion, a generous string section, harp, piano and celesta. But despite its vast scale, "Beggars and Angels" is often close and intimate.
Although the work does not have an explicit program, it is a journey. Not one with air-conditioning and four-star hotels. Here the traveller is pursued, harried, desperate.
Dean has avoided the title of "Symphony" for his first full-scale orchestral composition. Its unconventional structure invites a kind of timeless involvement from the listener, beyond the strictures of classical fast and slow movements.
Throughout the dramatic first half, fear and foreboding dominate. Passages of frenetic energy alternate with hallucinogenic pauses - a break in the clouds, a vision of heaven? A succession of chorale-like chords is cut through by abrupt orchestral outbursts. The "angel" motif, a skating, light flageolet figure, recurs in a myriad different guises throughout the work - here gently reflective in the strings, there edgy and aggressive in the woodwinds. Like the angels of Rilke and Betts, Dean's celestial beings are changeable creatures, possibly even dangerous.
An opening-out in the orchestra quickly sours into violence, and the chase begins in earnest. The physical world is ever-present. From the beginning, string-players bow tunelessly on the wood of their instruments, with the sound of indrawn breath. In the percussion section, you can hear the city streets. Metal plates and dustbin lids can be found alongside snare drums and roto toms.
Turbulence and conflict intensify, only to be shouldered aside by the return of the chorale tune in unison horns, this time complete. However complex the textures of Dean's orchestration become, a tonal framework is always audible, as is the metrical organisation. This is a world where chaos is not entirely senseless; even human panic has organic and logical parameters.
Swirling, descending figures in strings and clarinets herald the calmer opening of the second half. Dark chords give way to a solo tuba lament, "For Frank", written for Frank Barzyk, a young Australian tuba-player who died last year in Zurich.
Solo passages in cello, clarinet and cor anglais are melancholic, almost gentle; yet a sense of underlying tension is never absent. Menacing swells in the brass hint of further potential violence. Textures broaden and fragment. Nevertheless the prevailing atmosphere is one of sadness – a sense of resignation, with sinister overtones.
A lyrical cello solo, gentle passages from the woodwinds; melodic statements tend upwards, questioning, hesitant. The work builds in size and direction, only to fall off in a delicate tracery of string harmonics that leaves us breathless, without answers, in another world.
Perhaps, ultimately, Brett Dean's beggars have just as much claim to eternity as his angels.
©1999 Shirley Apthorp
Press Quotes
"
Beggars and Angels
is at once an aggressive pictorial and ethereal journey, taking in a huge orchestral force. Played in one continuous breath, but with a decisive shift in mood midway through, the work delights in its expansive physical framework... [and] pushes its emotions in all directions."
(Jeremy Vincent, The Australian, 08 Nov 1999)


"... an exciting soundscape that has a breadth of conception and a unified sense of structure that places Dean at the forefront of 21st century musical creativity."
(Barbara Hebden, Courier-Mail, 08 Nov 1999)
Recommended Recording
Melbourne Symphony Orchestra / Markus Stenz
ABC 476 160-6
Click here to purchase this CD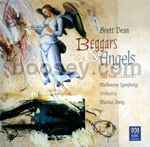 News stories for this title :
Brett Dean: Beggars and Angels premiered
Mailing List
Sign up for news updates and offers via email
SIGN UP
Featured Composer