Dean, Brett
:
Pastoral Symphony
(2000) 17'
for chamber orchestra
Scoring
1(=picc).1.2(I=Ebcl,bcl,II=bcl).1(=dbn,flexatone)-2.2(I=picc tpt).1(=flexatone).1(=flexatone)-perc(2):I=4tom-t/4susp.cym/SD/pedal BD/2bongos/2roto-toms/crot/marimba/tgl/tam-t; II=vib/xyl/glsp/crot/sm chin.cym/BD/alu-foil/thundersheet-pft-kbd sampler-strings(3.3.2.1).
Abbreviations
(PDF).
Territory
This work is available from Boosey & Hawkes for the world.
World Premiere
09/02/2001
Maison de Radio France, Paris
Ensemble Modern / Stefan Asbury
Composer's Notes
Deutsch
Beethoven's famous Pastoral Symphony from 1808 is just one of countless works, both large and small, found throughout the entire Western canon in which composers have celebrated the beauty and drama of nature. One need only start a short list (Schubert's Trout, Mendelssohn's Hebrides, Smetana's Moldau, Strauss's Blue Danube, Saint-Sean's Carnival, to name but a few) to realise the apparent abundance and diversity of classical music's odes to nature. And in our own time, Olivier Messiaen has done arguably more than any other composer to draw our attention to the greatest songsters on the planet, namely birds.
Having recently moved back to Australia after over 15 years in Germany, I'm acutely aware of the incredible source of joy and beauty, not to mention the resource of invention, that is to be found just by opening the windows and listening. Definitely no surprises on my part to read of Messiaen's utter fascination with the Antipodes and to find kookaburras and magpies popping up plentifully in his scores.
But in wishing to celebrate this wonderful abundance of treasures in the present day, I for one find it increasingly difficult to separate my love of the sounds of the natural world from an immense and growing sense of loss. Consider our relentless and respectless rampaging through the world's forests and wilderness areas, all in the name of more shopping, freeways, carparks and convenience. These issues are sadly a part of daily life in Australia. Sure, we all "love" nature, but what we love more are all the trappings of modern living...certainly more than the desire to stop and bask in the glory of a single butcherbird, perhaps the most magical sound found on the whole Australian continent. This piece, then, is about glorious birdsong, the threat that it faces, the loss, and the soulless noise that we're left with when they're all gone.
© Brett Dean, 2000

Reproduction Rights

This programme note can be reproduced free of charge in concert programmes with a credit to the composer
Press Quotes
"
Pastoral Symphony
begins with birdsong, moves into mechanized madness and ends with a sorrowing viola, like a prayer beside a grave, only this grave contains the entire planet and everything on it."
(Robert Jones, The Post and Courier, 28 May 2002)
Recommended Recording
Swedish Chamber Orchestra / HK Gruber
BIS-CD-1576
Click here to purchase this CD from our online shop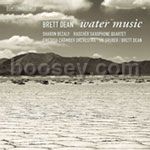 News stories for this title :
Brett Dean: a Pastoral Symphony for our time
Mailing List
Sign up for news updates and offers via email
SIGN UP
Featured Composer