New Release: Karl Jenkins: The Peacemakers (vocal score)
(February 2012)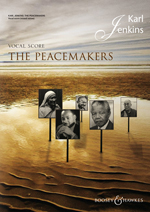 This new hour-long work for orchestra and chorus extols the ideals of peace by incorporating texts from some of history's iconic figures and symbols of peace and tolerance, such as Mahatma Gandhi, Nelson Mandela, Mother Teresa, Dr. Martin Luther King, Jr., Anne Frank, and the Dalai Lama. The composer recently conducted the world premiere in a portrait concert of his works at New York's Carnegie Hall on Martin Luther King Day, January 16, 2012, produced by Distinguished Concerts International New York (DCINY). The UK Premiere is happening in Manchester on May 19th as part of a four-date tour that also sees the new work performed in London, Cardiff and Birmingham. 

The vocal score is written for soprano solo, SATB chorus, optional SSA chorus, flute, guitar (acoustic, classical or fretless bass), strings & percussion, with optional soprano saxophone, brass, timpani, solo violin and organ/electronic keyboard. English & Latin text, with 'peace' in many languages.

Performance materials available on hire. Duration: 70 minutes.

EMI Classics will also release a recording of The Peacemakers featuring the London Symphony Orchestra and other international artists along with a chorus of more than 1,000 members in the U.S. (January 2012) and Europe (March 2012).
> Further information on The Peacemakers (Vocal Score)

Boosey & Hawkes Composer News