Alexis Ffrench - The Secret Piano Festival
(January 2012)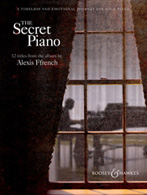 The Secret Piano Festival is an exciting opportunity for Prep School pupils to work with renowned pianist and composer Alexis Ffrench (Head of Keyboard Studies at Uppingham School) on pieces taken from his new Boosey & Hawkes publication, The Secret Piano. Children who are 13 or under and of a standard equivalent to grade 4 or above on the piano are warmly invited to apply to be part of The Secret Piano Festival at Uppingham School (
www.uppingham.co.uk
) on Saturday 4th February 2012 from 9.30am – 6.00pm.
The event will feature an exciting array of masterclasses, concerts, lectures, recordings and chamber music opportunities and in preparation, pupils will be given the option of putting together a short programme featuring one or more works from the book, or simply playing pieces as standalone offerings. Pupils will also have the chance to study a range of techniques including classical improvisation.
Alexis Ffrench, an educator and composer for film and television, first came to prominence in 1992 as a result of winning the first Portobello Concert Artists Award. In the same year he made his concert debut as part of Sir Simon Rattle's 'Towards the Millennium' series at the Royal Festival Hall, London, subsequently performing in many of the major cultural centres throughout the UK and Europe. He is an alumnus of Purcell School of Music, Royal Academy of Music and Guildhall School of Music and Drama, London.
For further information please contact Sally McGarrick, Uppingham School, Rutland, LE15 9QE. Tel: 01572 820696 Email:
music@uppingham.co.uk
The Secret Piano -
Available to Order Now
> News Search
Email Newsletters
Sign up for news updates and offers via email
SIGN UP
Featured Composer