B&H Welcomes Tod Machover - Toy Symphony premiere in 2002
(November 2001)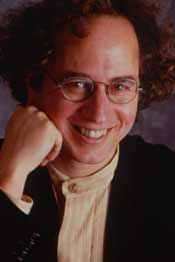 Boosey & Hawkes, Inc. is pleased to announce the signing of Tod Machover to its roster, representing the composer's forthcoming works worldwide. Machover's wide-ranging output includes opera, orchestral, vocal, chamber, and solo pieces. While some are written for conventional forces, he is best known for works that incorporate emerging musical technologies. Through his groundbreaking work at MIT's Media Lab, he has helped to develop instruments that point toward a new creative relationship between the musician and his tools. Utilizing research in the field of artificial intelligence, Machover's Hyperinstruments respond to the performer's movements in real time, orchestrating new sounds with the flick of a finger or the stroke of a bow.

Machover's most ambitious work to date may be his full-length opera Resurrection (published by BMG Editions), commissioned by Houston Grand Opera and premiered to widespread acclaim in 1999. Two new operas are on the horizon: Twelve Looney Tones: Schoenberg in Hollywood, which explores the relationship between high and pop culture, and an extravaganza of "sounds, shapes, motions and emotions" for the Opéra de Monte-Carlo.

Machover's first score under the new B&H contract, Sparkler, extends the composer's explorations onto a wider platform with his first work for Hyperorchestra, electronically transformed in real time. The score also functions as a fizzy opening movement for the large-scale Toy Symphony project – an interdisciplinary collaboration between Machover, his team at the MIT Media Lab, and orchestras and children around the world. The world premiere of Sparkler was given on 14 October by the American Composers Orchestra at Carnegie Hall in New York, a highlight of the Orchestra Tech conference examining new ways to integrate the orchestra with the latest media and digital technology.

"Machover, a brilliantly gifted composer, describes Sparkler as a kind of young person's guide to the hyperelectronic orchestra. As the instruments are played, the sound of the orchestra as an entity is picked up by microphones hovering above the stage and analyzed through software that alters pitch, brightness, density and 'spectral energy'." New York Times

The complete Toy Symphony receives preview performances in Berlin on 24 February with the Deutsches Symphonie-Orchester conducted by Kent Nagano. The official premiere follows in Dublin on 9 April with Joshua Bell as soloist and the National Symphony Orchestra of Ireland conducted by Gerhard Markson, followed by its UK premiere on 2 June in Glasgow with the BBC Scottish Symphony Orchestra.
> Further information on Work: Sparkler
Machover photo © Webb Chappell 1999
> News Search
Mailing List
Sign up for news updates and offers via email
SIGN UP
Featured Composer