Boosey & Hawkes Music Diary 2010: Available Now!
(August 2009)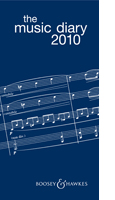 Boosey & Hawkes Music Diary 2010: Available Now!
In a user-friendly portrait format, with extra space for weekend appointments, the Boosey & Hawkes Music Diary contains the birthdays of hundreds of famous people in the world of music, with a large number of new additions reflecting the stars of today's musical world.

Additional information includes: an article about composer Mark-Anthony Turnage, who celebrates his 50th birthday in 2010; a handy reference for musical terms in French, German and Italian; a listing of important musical events from 100, 50 and 25 years ago; forthcoming anniversaries up to 2015; a mini-directory of important addresses and telephone numbers (concert halls, opera houses, festivals, arts organisations and record companies); a list of competition winners 2008; and in memoriam 2008.

In addition to this, it also contains a wine vintage chart, conversion tables, first aid advice, a list of religious festivals, international phone codes and national holidays, as well as maps of the London Underground and West End.

The pocket size diary (166 x 82 mm) is available in blue and red.
> Further information on Music Diary 2010 (UK blue)
> News Search
Email Newsletters
Sign up for news updates and offers via email
SIGN UP
Featured Composer