Boosey Woodwind & Brass Method: new teacher's website
(October 2002)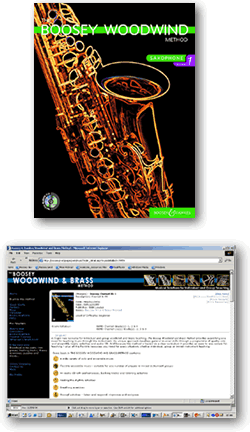 Boosey Woodwind & Brass Method: new teacher's website
A new
teacher's website
is launched to supplement the innovative new
Boosey Woodwind and Brass Method.
The site provides teachers with a wealth of extra information as well as resources to download free of charge.
Teachers can use the site to find out more about this innovative new curriculum approach, read about the author and composers, listen to sound clips, view sample pages and more. There's even a clever search facility called "what can I teach next" that helps you find other pieces you can use alongside the method at all stages.
The resource area includes both add-ons you can use to supplement the book, such as backing tracks and extra accompaniments and parts for pieces in the books plus completely new pieces only available online and a range of general music theory puzzles.
Designed to meet the changing needs of today's teachers,
The Boosey Woodwind and Brass Method
is already proving a best-seller. Teachers are finding it provides resources that are both easy-to-use and flexible across both individual and group teaching, all under-pinned by a clear curriculum
To find out more visit the new
Boosey Woodwind and Brass Method website
.
> Further information on series: Boosey Wind & Brass Method
> News Search
Mailing List
Sign up for news updates and offers via email
SIGN UP
Featured Composer