Brett Dean: Beggars and Angels premiered
(September 2000)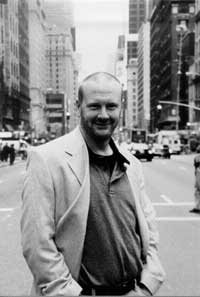 The Australian-born composer
Brett Dean
, who signed a publishing contract with Boosey & Hawkes last year, is enjoying his most active period to date in terms of international performances and new commissions. After fifteen years in Europe, composing and playing viola in the Berlin Philharmonic Orchestra, he has committed himself to a full-time career as a composer and has returned to live and work for most of each year in Australia.
Dean's recent orchestral work,
Beggars and Angels
, has been travelling widely since its premiere by the Melbourne Symphony Orchestra under Markus Stenz last November. January and February brought the orchestra to Europe for an extensive tour, with ten concerts including performances in Zürich, Geneva, Stuttgart, Munich, Frankfurt and Linz. The new score takes its title from a 1994 exhibition in Potsdam exploring the contrasts between a series of sculptures of beggars and paintings of angels.
"
Beggars and Angels
brings together the airy, ethereal world of angels with the grounded, oppressive reality of beggars. This collision of opposites has sparked an imaginative attempt by the composer to both contrast and reconcile images of seraphic beauty with those of brutal baseness. Dean employs economy for maximum impact, creating transparent layers of sound which are ruptured by touches of searing orchestral colour. Silence, stillness and space are skilfully integrated into the texture, and there are moments where time seems to stand still."
Melbourne Herald Sun
"In the first part of the tone poem Brett Dean portrays the restlessness, the unease and the hopelessness of the beggars on the street with aggressive rhythmic patterns and motives. Gradually the angels enter – consoling and demonic at the same time in the twinkling dusk. The two worlds attack one another, trading places without coalescing. The piece disappears in string flageolet notes with rhythmic flourishes as a decoy: hope as an illusion. The orchestral practitioner Brett Dean knows exactly what he can demand of an orchestra, in terms of divisions of instrumental groupings, superimposition of rhythm and melody, array of tonal colour, brilliance and discipline."
Frankfurter Allgemeine Zeitung
Dean's admired work for string orchestra, sampler and tape,
Carlo
, continues to win new friends worldwide. In addition to regular Australian performances, Sir Simon Rattle has conducted it with the Berlin Philharmonic and Markus Stenz with the London Sinfonietta in recent seasons. It has also been much in evidence in the USA in past months, with performances by the Los Angeles Philharmonic under Markus Stenz, and on an eleven-concert tour by the Australian Chamber Orchestra conducted by Richard Tognetti, including a live webcast by GMN and culminating in an appearance at Lincoln Center in New York.
The ACO tour included in Iowa the premiere of Dean's
Game Over
, a collaboration between the orchestra and the Bang-On-A-Can All-Stars. The return match has been scheduled for the Sydney Opera House in September as part of the Sydney Olympic Festival. The new work is described by the composer: "We've all heard it many times…the promises of a life of luxury, fame and fortune that are the product of our media dominated world…
Game Over
is about the real emptiness that lies smirking behind the façade of Day-Glo, prime-time dreams… a live tone poem of unrealizable desires for a flailing generation."
Dean's current projects include
Amphitheatre
, a short work for the Queensland Symphony Orchestra under Daniel Harding to be premiered in Brisbane on 16 June, and
Winter Songs
for tenor solo and the wind quintet of the Berlin Philharmonic scheduled for premiere in 2001. Looking further ahead an operatic project is in view.
> Further information on Work: Beggars and Angels
Photo: © Cordula Groth
> News Search
Mailing List
Sign up for news updates and offers via email
SIGN UP
Featured Composer