Brett Dean: a Pastoral Symphony for our time
(October 2001)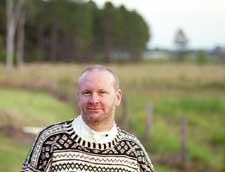 Brett Dean: a Pastoral Symphony for our time
"With his
Pastoral Symphony
, the Australian
Brett Dean
has created a great success uniting both public and musicians alike." Thus
Le Figaro
summed up the Paris premiere last February of Dean's new work, commissioned for Ensemble Modern by the City of Frankfurt and performed at the Festival Présences under the baton of Stefan Asbury. Since then, Ensemble Modern has toured
Pastoral Symphony
to the Ars Musica festival in Brussels and presented its German premiere in Frankfurt. The Ensemble InterContemporain also takes up the work this season, with a performance at Cité de la Musique in Paris on 30 April conducted by Markus Stenz, and the Australian Chamber Orchestra is to tour it in June/July 2002.
Pastoral Symphony
provides a contemporary 'take' on the creative relationship of man-made music to the sounds of nature, a successor to the heritage ranging from Beethoven's own work of the same name to Messiaen's ornithological explorations. Dean moved in 1999 from Berlin, where he was a viola player in the Berlin Philharmonic Orchestra, to his native Australia and became newly aware of the musical world 'outside' his window, but also of the danger that man represents:
"Sure we all "love" nature, but what we love more are all the trappings of modern living... certainly more than the desire to stop and bask in the glory of a single butcherbird, perhaps the most magical sound found on the whole Australian continent. This piece then is about glorious birdsong, the threat that it faces, and the soulless noise that we're left with when they're all gone."
Dean combines virtuosic and complex avian elaborations for the ensemble with seemingly raw sounds of birdsong on sampler and concrète effects on CD, all three strands questioning the boundaries between reality and artifice. What communicates strongly as the work progresses is a change of perspective from mankind's cosy attitude to the natural world, to a sense of fear in the forest as the last bird is annihilated. Then silence.
"Brett Dean with his
Pastoral Symphony
... confronts the colourful assortment of sounds from his native Australia with the roaring and crashing world of modern cities... highly artistic and correspondingly gripping in its realisation."
Frankfurter Rundschau
Dean's most recent orchestral score,
Dispersal
, is a co-commission between the Adelaide Symphony Orchestra and the BBC Symphony. The premiere takes place in Adelaide on 9 November conducted by David Alan Miller, and the BBC Symphony takes it up on its Australian tour in May 2002 with performances in Melbourne and Sydney conducted by Andrew Davis. Over the coming months Dean's
Carlo
travels the world with the Australian Chamber Orchestra, including New South Wales, Mexico, Paris, London, Berlin and Stuttgart.
> Further information on Work: Pastoral Symphony
Photo: Jörg Boltersdorf
> News Search
Mailing List
Sign up for news updates and offers via email
SIGN UP
Featured Composer