Chris Norton: Microballads - New Release Out Now
(March 2011)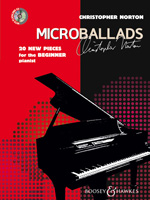 20 new pieces for the beginner pianist.
Chris Norton's Microballads starts very easy (pre-Grade 1) and gradually becomes more challenging, without ever going much beyond grade 3 in difficulty.

It covers many classic ballad styles - including the ones listed above, but also a gentle bossa nova, a Scottish ballad, a country ballad and some big heart-on-sleeve rock ballads.
> Further information on Microballads (Book + CD)
> News Search
Email Newsletters
Sign up for news updates and offers via email
SIGN UP
Featured Composer