Dean's Dispersal proves a powerful concert-opener
(June 2002)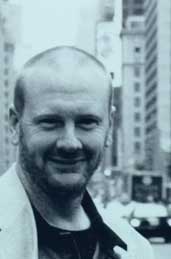 Dean's Dispersal proves a powerful concert-opener
Within its four-minute span,
Brett Dean
's new concert opener
Dispersal
packs a powerful punch, realised with the composer's customary orchestral virtuosity. The work was co-commissioned by the Adelaide Symphony Orchestra who premiered it last November under David Alan Miller, and by the BBC Symphony Orchestra who included it on their Australian tour in May conducted by Andrew Davis.
"Deriving its title from the mass slaughter and driving out of Aborigines from their homelands, Dispersal begins with a tremendous maelstrom of disconnected sounds – stabs, shocks and searing outbursts – which give way to reveal a shadowy, eerie hymn setting from Parry. It is a work that leaves a lot hanging in the air, not just the hymn…"
The Australian
The month of May brought some notable Dean performances around the world: the UK premiere of his e e cummings setting Winter Songs in London, the Dutch premiere of
Beggars and Angels
from the Rotterdam Philharmonic under Markus Stenz, and the US premiere of Pastoral Symphony at the Spoleto Festival. The composer's latest orchestral work,
Shadow Music
, is unveiled on 13 June by the Melbourne Symphony Orchestra conducted by Markus Stenz. Future Dean projects include a new work for the Auryn String Quartet, and an operatic adaptation of Peter Carey's
Bliss
.
> Further information on Work: Dispersal
Photo: Cordula Groth
> News Search
Mailing List
Sign up for news updates and offers via email
SIGN UP
Featured Composer