Doreen Rao's Choral Training Course comes to Wales
(December 2003)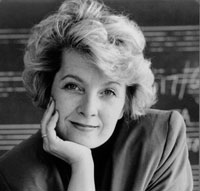 Doreen Rao's Choral Training Course comes to Wales in 2004!
The
Choral Music Experience
Institute is a professional development course on training and repertoire for children's choirs, offering a unique opportunity for conductors and teachers to train with the internationally acclaimed conductor/teacher Doreen Rao. Hosted by the
University of Wales, Cardiff,
the course will take place from
July 31st - August 8th 2004
Choral Music Experience
is a complete resource for choral music education. It offers the widest range of repertoire for children's, youth and community choirs, from choral classics to contemporary and world music, with extensive training material for teachers. Together these provide an integrated curriculum for teaching music through singing - a performance approach to music education.
Institute courses will focus on training the young voice and the study of a diverse choral repertoire as a basis for teaching musicianship in children's choirs. Masterclasses in
conducting skill
s,
score analysis
and
vocal techniques
will be included as part of a comprehensive daily programme. The theme for the 2004 course will be
The Opera in Choral Music
and special interest sessions will cover singing and conducting techniques related to the performance of recitative, aria, and chorus in opera and theatre, art songs and oratorio for children and youth choirs. Featured works will include arias, duets and scenes from Mozart's Magic Flute, the world premiere of Robert Kyr's ritual drama
In the Name of Peace
for boy soprano, baritone, narrator, choir and orchestra and newly edited and arranged music from Leonard Bernstein's Peter Pan.
Download brochure here
B&H links:

Doreen Rao
Lee Kesselman
Choral Music Experience
> Further information on series: Choral Music Experience
> Further information on CME Institute for Choral Music Education 2004 Event
> News Search
Email Newsletters
Sign up for news updates and offers via email
SIGN UP
Featured Composer