Eight new pieces arranged for elementary violin quartet
(August 2009)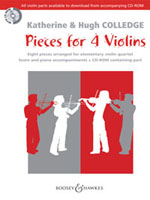 Pieces for 4 Violins by Katherine and Hugh Colledge.
Eight pieces arranged for elementary violin quartet from the composers of Stepping Stones, Waggon Wheels, Fast Forward and Shooting Stars.

This collection of quartets is aimed at players of approximately grade 3-4 standard and includes a variety of styles from the Baroque period to the present day. While the music is written in accessible keys, the quartets vary in their difficulty from the fairly straightforward Zither Carol to the more complex textures of Madrigal and Pachelbel's Canon.

The music has been arranged so that all the parts have melodic interest at some stage, thus giving each player an opportunity to shine. However, it is assumed that players I and II are slightly more technically advanced and the few instances of position work are restricted to those parts.

The quartets were originally designed to stand alone but a piano accompaniment has been included as a rehearsal aid and can be used for support in performance if required.

The book contains score plus piano accompaniment, with violin parts available to download and print from the accompanying CD-ROM.
> Further information on Pieces for 4 violins
> News Search
Email Newsletters
Sign up for news updates and offers via email
SIGN UP
Featured Composer