Holloway gilds Bach: new Hyperion disc wins acclaim
(February 2003)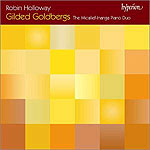 Hyperion has released a new double CD of
Robin Holloway
's
Gilded Goldbergs
, a fantasy-filled piano duo reworking of Bach's
Goldberg Variations
(Hyperion CDA 67360). The recording was chosen as Sunday Times Disc of the Week and was Editor's Choice in the February issue of Gramophone, where it was described as "no mere 'variations on variations', but a compelling new work boasting a wealth of inspiration". Featuring the Micallef-Inanga Piano Duo, the recording is offered as a double album for the price of a single CD. Sadly, the disc was one of the last releases before the death of Hyperion's director Ted Perry.
Click here to purchase this CD set from our Online Shop
"Stimulating and immensely enjoyable music … The discs have seldom been off my player in recent days – the work draws one back and draws one in, and I'm sure this will be the reaction of many who acquire the set".
International Record Review
"Holloway explains at length in a fascinating booklet essay how his Gilded Goldbergs came about - the initial motiviation was to clarify certain of the textures by arranging them for two pianists. But the compositional muse quickly homed in on the project and soon Holloway was doing considerably more than arranging. As he puts it, 'even in a place where arrangement was the only goal, "interference" crackled the transmission'. The results are intriguing, witty and wholly engaging."
James Jolly, Editor, Gramophone
"A marvellous work... Holloway's ear for nuance, not to mention the sheer ingenuity of the invention, left me open-mouthed with admiration... Whatever your CD priorities to date, this one surely has to fly straight to the top of your wants list."
Robert Cowan, Gramophone
> Further information on Work: Gilded Goldbergs
> News Search
Mailing List
Sign up for news updates and offers via email
SIGN UP
Featured Composer