Huws Jones's Nordic Fiddler now released
(April 2014)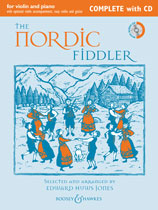 Edward Huws Jones's The Nordic Fiddler is an exciting new addition to the popular Fiddler Collections series, representing the rich musical heritage of Scandinavia.


The Nordic Fiddler is a collection of fiddle music from Denmark, Finland, Norway and Sweden, exploring the rich variety of the Nordic tradition. Sweden and Norway are greatly represented, with polskas, waltzes and other dance music from these countries taking pride of place - fast dances and slow ones, plaintive melodies and bridal marches. The collection includes well-known tunes such as the Swan polska (Sweden) and the much-performed The herd-girl's Sunday (Norway), complemented by growing favourites such as the Norwegian hymn I see you sweet lamb. Huws Jones encourages the violinist to embellish these traditional melodies with ornaments and authentic rhythms to provide that effective folk feel. Music from Finland (Raharinki, A hundred years) and Denmark (Polska from Funen) augments the rich variety of The Nordic Fiddler.

As with other titles in the hit series, The Nordic Fiddler is available in two formats: the Violin Edition (with an optional easy violin part and guitar chords); or the Complete Edition, which also includes both keyboard and violin accompaniments to add an authentic feel to pieces such as Polska from Funen and Byss-Kalle's polska. Both editions include a Full Performance & Backing Track CD. Supplementary material is also available at www.boosey.com/nordic-fiddler.

Edward Huws Jones has travelled extensively researching fiddle-playing traditions. In each book of the popular Fiddler Collections series he explains the background of the particular musical style, giving his own suggestions for a lively performance. And to help recreate the spirit of the music, every book in the series is beautifully illustrated.
> Further information on series: Fiddler Collections
> Further information on The Nordic Fiddler - Complete Edition
> News Search
Mailing List
Sign up for news updates and offers via email
SIGN UP
Featured Composer