LSO reveals MacMillan's A Deep but Dazzling Darkness
(March 2003)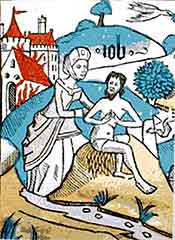 LSO reveals MacMillan's A Deep but Dazzling Darkness
London plays host to the premiere on 27 March of James MacMillan's A Deep but Dazzling Darkness. This new concerto for violin and ensemble or chamber orchestra, was commissioned by the London Symphony Orchestra for the opening of its new St Luke's education centre and by the Saratoga Chamber Music Festival. For the London premiere members of the LSO are joined by soloist Gordan Nikolitch for two performances under the baton of the composer, and Chantal Juillet is soloist in the US premiere in Saratoga in August with members of the Philadelphia Orchestra.



A Deep but Dazzling Darkness, cast in a single 25-minute movement, offers contrasts in light and shade, celebration and foreboding. MacMillan was fascinated to learn that the medieval patron saint of music, before the relatively recent adoption of St Cecilia, was Job. His suffering and trials may make him a somewhat unlikely candidate to modern minds, but it was Job's role of comforter to fellow-sufferers that linked him with music in earlier times. A belief in the compassionate purpose of music has long been a tenet for MacMillan, like Tippett before him, and provided the central impetus for the new work.

After a decade in which concertos with full orchestra have dominated his output, A Deep but Dazzling Darkness employs a compact ensemble of 20 players plus tape. Aspects of the chamber groupings within the ensemble, such as in a series of trio interludes, are drawn from medieval woodcuts depicting Job comforted by musicians, and there are links to musical references in the Book of Job: "My harp is turned to mourning, and my flute to the sound of wailing". A martial refrain through the work is the L'Homme Armé theme, while vocal verses heard on tape summon the "Sad saint of all musicians" to bring compassion and light in dark and troubled times.

For further information on events at LSO St Luke's visit the LSO website.
> Further information on Work: A Deep but Dazzling Darkness
Image: woodcut of Job
> News Search
Mailing List
Sign up for news updates and offers via email
SIGN UP
Featured Composer