MacMillan anthem for Archbishop Rowan Williams
(February 2003)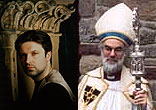 A new anthem by James MacMillan, To My Successor, has been commissioned by the Dean and Chapter of Canterbury for the enthronement ceremony of the 104th Archbishop of Canterbury, Rowan Williams, on 27 February in Canterbury Cathedral. The short choral work sets a text by George Herbert (1593-1633) accompanied by a series of Alleluias, and is scored for SSAATB chorus a cappella. The chosen text is that of an inscription Herbert had carved onto the chimney mantel of his parsonage-house at Bemerton in Wiltshire:



If thou chance for to find
A new House to thy mind,
And build without thy Cost:
Be good to the Poor,
As God gives thee store,
And then, my Labour's not Lost.

MacMillan's anthem will be printed for sale by Boosey & Hawkes in the near future.

The premiere of To My Successor can be heard as part of the Enthronement service, which is being broadcast on BBC Radio 4, telecast on BBC2 TV, and webcast at www.bbc.co.uk. Coverage begins at 2.30 pm, with the service itself starting at 3.00 pm.

James MacMillan met Rowan Williams when they and poet Michael Symmons Roberts worked together on a Theology through the Arts programme, leading to the creation of Parthenogenesis in 2000, a music theatre work exploring the issues surrounding human cloning. Parthenogenesis received its German stage premiere in Magdeburg in January, and its US premiere takes place in Los Angeles on 24 February.

James MacMillan's new choral work for The Sixteen, O Bone Jesu, continues to tour to cathedrals in the UK, conducted by Harry Christophers. The work was premiered at Southwark Cathedral on 10 October, and was released on the choir's own label (COR16010), coupled as on the tour with Robert Carver's own O Bone Jesu, which was the inspiration for MacMillan's own work.

Future peformances of O Bone Jesu by The Sixteen:


| | |
| --- | --- |
| 22 February 2003 | Winchester Cathedral |
| 28 February | Norwich Cathedral |
| 1 March | St Alban's Cathedral |
| 8 March | Christ Church, Oxford |
| 14 March | Lichfield Cathedral |
| 15 March | Chester Cathedral |
| 21 March | Wells Cathedral |
| 10 May | Christchurch Priory, Dorset |
| 15 May | Exeter Cathedral |
| 16 May | Gloucester Cathedral |
| 20 June | Paisley Abbey, Glasgow |
| 23 June | St Magnus Cathedral, Orkney |


James MacMillan is now established as a leading choral composer. Explore his music online or with a new Boosey & Hawkes MacMillan choral sampler.
> Further information on Work: Parthenogenesis
Photos: Boosey & Hawkes/Barry Marsden; Anglican World/J Rosenthal
> News Search
Mailing List
Sign up for news updates and offers via email
SIGN UP
Featured Composer