More Concerto Classics
(February 2009)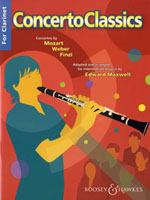 Concerto Classics for Clarinet and for Flute.
The Concerto Classics series gives intermediate students the opportunity to explore some of the most important and influential concertos in their instrument's repertoire.

The new edition for clarinet includes concertos by Mozart, Weber and Finzi, and the edition for flute includes pieces by Vivaldi, Mozart and Quantz. Each piece has been carefully arranged as a valuable stepping-stone towards the original great works.

Also included are supplementary exercises designed to support students with the various technical aspects required in the solo parts.

A volume of Concerto Classics for trumpet is already available, and a volume for violin is in preparation.
> Further information on series: Concerto Classics
> Further information on Concerto Classics for Clarinet
> News Search
Email Newsletters
Sign up for news updates and offers via email
SIGN UP
Featured Composer