Ned Rorem: Songmaster on CD
(August 2000)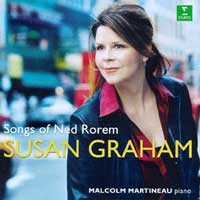 "Is there a better living art song-writer than Ned Rorem? I can't think of one, and the last century produced very few to equal him". So wrote Michael Oliver in his Classic CD review of Susan Graham's new disc of Rorem songs which has been attracting excellent reviews, as much for the masterly songs themselves as for the superlative performances (Erato 8573-80222). Oliver continued to describe how Rorem's songs are "often very simple: a poised and graceful melody that supports and never distorts the words, an accompaniment of very few notes… In the briefest space Rorem can distil emotion very intensely, whether sheer happiness, poignancy or remembered love… this is a wonderful recording: an ideal introduction to a major song-writer…"



"A beautifully performed collection of songs by one of the genuine masters of the form…The strength and beauty of Rorem's settings lies in their directness and candour. He doesn't linger, the poem and song are one, the melody growing from the accompaniment into the vocal line – and in this does he resemble Poulenc – but just as one seems able to grasp it, it's gone." Gramophone

"Rorem's music has always sprung from a lyric impulse, and from his expressive response to words… the range of poets and the limpid settings provide a perfect introduction to Rorem's art – music that is indebted to Debussy and Ravel more than anyone else. Susan Graham and Malcolm Martineau deliver them all quite marvellously." The Guardian

A new CD album of Rorem songs from countertenor Brian Azawa has also just been released by RCA (Red Seal 09026 63512-2). The disc includes two song cycles with orchestra, More Than a Day and From an Unknown Past, together with Rorem's concerto grosso Water Music. Gramophone described the new recording as "a portrait of one of the most consistently suprising and individual composers of our time. Rorem cannot be bracketed with any school, he's just himself, a man with a breadth of vision and imagination that transcends labels."

Ned Rorem's magnum opus in the genre of songwriting, Evidence of Things Not Seen, is now available both on disc (New World 80575-2), and as a B&H vocal score (ISMN M-051-93346-4). This extended cycle for four voices and piano, has been performed and acclaimed in the USA, but awaits premiere in other territories, offering a major event for recital venues and festivals. Divided into three parts, the cycle starts with Beginnings, concerned with moving forward and the wistful optimism of love, followed by Middles, which explores the coming of age, the horror of war and nostalgic disappointment. The final collection, Ends, examines death and concludes with William Penn's command to seek the unseen.
> Further information on Work: Evidence of Things Not Seen
> News Search
Mailing List
Sign up for news updates and offers via email
SIGN UP
Featured Composer