New Sheet Music Downloads service launched!
(February 2009)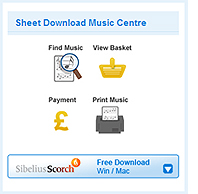 Buy sheet music from boosey.com to download direct to your printer!
For short pieces and piano arrangements of popular favourites, sheet music downloads can be the speediest and simplest way to buy your music.
Boosey & Hawkes has relaunched its service with an offering of 1500 songs and piano and instrumental music available at the click of a mouse.
Downloads range from Bach Preludes and Fugues and 20th century classics to music familiar from current TV advertising. Highlights include
Eliza Aria
(the music from the Lloyds TSB TV commercials), the
Theme from Shine
(Rachmaninoff's 3
rd
Piano Concerto), and Karl Jenkins's
Adiemus,
plus a fantastic range of folk songs and easy music for beginner players. Also featured are many classical titles not available from any other website including music by Copland, Bernstein and Britten and many ballads from the famous Boosey & Hawkes archive.
You can view the score on screen before downloading, and many items can also be heard and transposed using Scorch technology. As well as a full search facility, the site offers suggested selections for you to explore.
Check out this great new service at our
Sheet Download Music Centre
.
> News Search
Mailing List
Sign up for news updates and offers via email
SIGN UP
Featured Composer