Offenbach critical edition announced
(June 2000)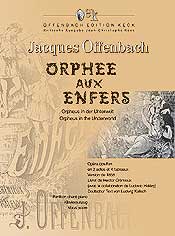 The opéras bouffes of Jacques Offenbach are firmly established in the repertoire yet, behind the scenes, there have been immense difficulties in performing the works in definitive editions which reflect the composer' s original intentions. After nearly 150 years, a great many unsanctioned variants have crept into the stageworks, including alterations to the plots, reorchestrations, and copying errors. Compounding the problems have been missing numbers, missing orchestral parts, the complete lack of full scores for conductors, and for some works no extant performing materials at all.

At last, help is on the way, with the announcement of the new Offenbach critical edition published by Boosey & Hawkes/Bote & Bock. The edition is being created in collaboration with French musicologist and conductor Jean-Christophe Keck, president of the French Offenbach Research Centre. As Keck possesses the world' s greatest private archive of first editions and manuscripts of Offenbach's music, he is uniquely qualified for the task. Assisting the project are other leading experts from around the world, including Jean-Claude Yon whose new Offenbach biography is shortly to be published by Gallimard, Peter Hawig of the German Offenbach Gesellschaft Bad Ems, the biographer Robert Pourvoyer, the Offenbach expert Alain Fraison, plus important collectors of the composer's manuscripts.

To date Keck's editions of four major opéras bouffes " La Périchole, La Grande-Duchesse de Gérolstein, La vie parisienne, and Les brigands " have already had successful performances in France, Germany, Switzerland, and Austria. In addition, the recent EMI recordings of Les brigands conducted by John Eliot Gardiner and Orphée aux enfers by Marc Minkowski drew on the research of Keck, clearly giving the new project a strong imprimateur.

The first batch of new Boosey & Hawkes/Bote & Bock critical editions to appear in print includes vocal scores and the first full scores of Orphée aux enfers, due to be officially launched this summer, with separate volumes for the 1858 and 1874 versions. Also to be released are the Offenbach Waltz (American Eagle Waltz) for cornet and small orchestra, a song album, and chamber music. On the publication schedule for coming years are scores of La vie parisienne, La Grande-Duchesse de Gérolstein and La Périchole, while longer term plans take in perennial favourites such as the full-length La belle Hélène, Barbe-bleue and Les brigands, the one act opéras bouffes La chanson de Fortunio, Ba-ta-clan and Monsieur Choufleuri, and the first publication of Offenbach's only through-composed Romantic opera Die Rheinnixen.

Publications in the Offenbach critical edition are available on sale by subscription. Performance and perusal materials are available from Boosey & Hawkes hire librararies and agents worldwide.
> Further information on series: OEK (Offenbach Edition Keck)
> Further information on Orphée aux Enfers (1858) (OEK)
> News Search
Mailing List
Sign up for news updates and offers via email
SIGN UP
Featured Composer