Singing Sherlock 3 now available!
(October 2009)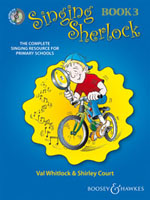 The complete singing resource for primary schools.
Following the immense success of Singing Sherlock 1 and 2, this volume and its companion book Singing Sherlock 4 provide yet more exciting repertoire and ideas for primary singing. As with the other books, it demonstrates enjoyable and structured ways to teach music concepts and vocal skills, with no prior musical knowledge or music-reading skills required!

The book is aimed at the non-specialist music teacher as well as the specialist, and includes tried and tested songs which will inspire good singing in schools and youth choirs - with CDs of performance and backing tracks. It is aligned to the requirements of Key Stage 1 (ages 5 to 7), and now includes "Sherlock in Concert" - show-stopping concert pieces to round off a period of study.
> Further information on series: Singing Sherlock
> Further information on Singing Sherlock 3
> News Search
Email Newsletters
Sign up for news updates and offers via email
SIGN UP
Featured Composer