Singing Sherlock: meet the creators of new primary resource
(June 2003)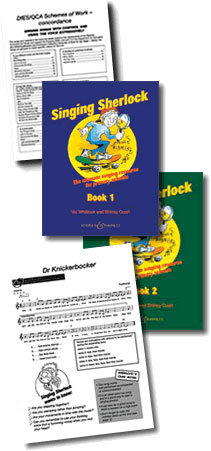 Singing Sherlock is an innovative singing resource for primary schools. Creators Val Whitlock (VW) and Shirley Court (SC) explain why they devised the series

Q: How did you come to collaborate?

VW: We go back donkeys' years! I first met Shirley when we were two scared people on a conductor's workshop. It was a Sing For Pleasure course, back in 1984 or 1985. We kept bumping into each other at similar things and then we decided to direct our own Singing Day together. Over the years, we've worked together more and more.

SC: Val and I think the same way – you could say we're singing from the same hymn sheet! We devised the Qualifications and Curriculum Authority (QCA) schemes of work together…

VW: …so when Boosey & Hawkes approached us to write a singing resource for primary schools we thought, 'Why not?! But we wanted it to do what no other singing books had done. Lots of books have great songs in them but we wanted to devise books that showed vocal progression. That's one reason why the Singing Sherlock range includes so many warm-ups and raps for the children – it's the sort of thing they really enjoy.

SC: We also wanted to create a book that was useful for the less confident or non-specialist teacher but that would also be of use to specialists.

Q: So how did the character of Singing Sherlock, the detective who investigates music through the series, develop?

SC: The use of a character called Singing Sherlock came out of years of working with large groups of children and trying to get them actively involved in music-making.

VW: We wanted to call him the Singing Detective – but we were going to run into a few problems with that one!

Q: From Dennis Potter's estate, perhaps?!

VW: Absolutely!

Q: So what's the function of the series – is it simply to get children singing?

SC: In our experience, we would teach children the songs, the notes, but we were both very concerned with how we could improve the quality of their singing. There is actually a great shortage of structured singing material for children. Our book is guaranteed to work and is geared at developing certain aspects of the voice. We are using some songs here that we already new about but it was difficult to put them together in a meaningful way. That's why we wanted to commission new songs. There were so many new song books coming out with lots of recycled material.

VW: Shirley and I have both used millions of those sorts of books but there were only ever three or four songs in each that we used. We wanted to bring together all the really good material in one place, so we commissioned. We knew a lot of the composers already through our regular work and others were recommended to us. We approached the best composers of children's songs we could. The result is that only one third of the material in Singing Sherlock was already in the public domain; two thirds of the songs are new.

Q: How did you ensure the new material was suitable?

VW: We set very strict criteria when we commissioned. For instance, the songs had to be written within a specified range of notes. We also gave instructions on other components. For instance, Teddy Bear Rock and Roll – one of the most popular songs in the book – was there to encourage a sense of pulse. It was also a way of having something upbeat. With a song such as Climbing Sherlock, we wanted children to develop a sense of high and low.

SC: It was also really important that the songs had attractive tunes and lyrics. That's so important that children understand what they are singing about. We feel there's an awful lack of comprehension with other material – we really want children to be able to bring out the expression in the songs.

Q: Are you happy with the finished product, then?

VW: Everyone we've spoken to seems to think it's great.

SC: It was fantastic being able to commission new music. It's made a huge difference to the impact of the series.

Q: So what next for Singing Sherlock? Roadshows?

VW: Aha! We're already doing Singing Sherlock workshops and we've been inundated with requests from local education authorities to run them. But we wouldn't mind having a bit of a break before we move onto the next big project!








> Further information on series: Singing Sherlock
> News Search
Mailing List
Sign up for news updates and offers via email
SIGN UP
Featured Composer