The Fiddler Playalong Cello Collection
(July 2007)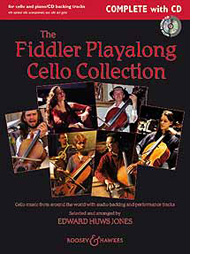 The Fiddler Playalong Cello Collection is the latest in the bestselling Fiddler Collections series.
Music educationalist, composer and string player
Edward Huws Jones
has travelled extensively, making a wealth of traditional music available in print for the first time: now, with this great new collection, cello players need no longer feel left out!
The tunes explore a world of traditional music, from Irish to Gypsy and from Bluegrass to Latin-American, with many other exciting and intriguing styles along the way. The accompanying CD reflects this diversity with supporting bands featuring an extraordinary variety of instrumental colours including authentic sounds drawn from the Celtic countries, central and eastern Europe, and from the Americas.
The musical arrangements in
The Fiddler Playalong Cello Collection
were cater for cellists ranging from the relative beginner to the advanced player, with cello melody lines that vary in standard from Associated Board grades 3 to 6. But if the melody is just out of reach, the aspiring player can still join in with the easy cello part.
The cello accompaniment part is essentially a bass line: it completes the harmonies, adds rhythmic drive and knits the whole ensemble together. The arrangements in
The Fiddler Playalong Cello Collection
are compatible with the companion volumes for violin and viola (
The Fiddler Playalong Collection 1
and
2
, and
The Fiddler Playalong Viola Collection
) so a mixed ensemble of violins, violas and cellos can make music together. The arrangements in this collection follow the same highly flexible format as the other books in the series and can be performed as solos or duets (or played by larger ensembles), accompanied by piano, cello or guitar, with or without the CD accompaniment. The printed materials include all the parts you need, and the ensemble sounds on the CD are full of ideas for creating a stylish band with whatever players and resources are available – or for whoever turns up on the night!
"I should like to thank William Bruce for his cello expertise and his inspirational playing, which were invaluable in the preparation of this volume. This is music to play and enjoy with other people. Whether it is the rhythmic drive of a Scottish ceilidh or the heart-tugging lyricism of a klezmer wedding, the music is full of freshness, spontaneity and communicative flair! "
—Edward Huws Jones
> Further information on Fiddler Playalong Cello Collection
> News Search
Email Newsletters
Sign up for news updates and offers via email
SIGN UP
Featured Composer