What do Prokofieff & U2 have in common?
(October 2003)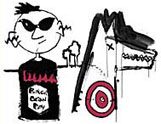 The answer:
Bono. No... that's his name - the great lead singer & song-writer of U2, who last year were awarded MTV's Lifetime Achievement Award, has turned to his skills as a painter to enhance a radical re-working of Prokofieff's masterpiece for children,
Peter & The Wolf
. The project is to raise funds to aid hospice care both in Ireland and overseas.
The intriguing & unusual re-working of Prokofieff's music is by Gavin Friday and his ensemble; they aimed to "take the focus off the 'instruments of the orchestra' millstone and to appreciate afresh the beauty of the melodies". The result is a clever & magical modern take on the children's classic with humour & gothic fairytale madness, using a mixture of classical & folk instruments, in which we get introduced even to instruments such as accordion & banjo!
Not only will the sales of the CD & book raise funds for the charity, but the originals of Bono's illustrations (some as large as 25 feet in length) are to form an exhibition touring the UK, Ireland & USA, and then to be auctioned at Christie's in New York on 21st November - all proceeds benefitting the non-for-profit hospice organisation.
Links:
Irish Hospice Foundation's Peter & The Wolf
> News Search
Email Newsletters
Sign up for news updates and offers via email
SIGN UP
Featured Composer