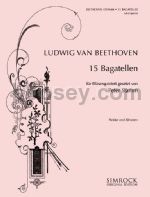 Beethoven, Ludwig van (Stamm) - 15 Bagatellen
description: Woodwind Quintet (Score & parts)
ISMN 9790221121325
Publisher Simrock
Availability: Stock Title
Level of Difficulty: Intermediate
In terms of music history, the wind quintet genre is caught between two stools: 18th-century composers preferred the sextet or octet instrumentation with two equal instruments each for their wind divertimentos and serenades, whereas the Romantic composers preferred the warm sound of the string instruments – which only left a short period of transition for the mixed wind quintet.

There was hardly any great classical music written for this tonally charming genre. The present arrangement of several selected bagatelles by Beethoven shall help to fill this gap in the classical repertoire. Besides, it is precisely the genre of the small intimate bagatelle which Beethoven cultivated his whole life that is able to create its own new charm as wind chamber music.
Contents

01 WoO 52
02 op. 33/2
03 op. 33/4
04 op. 33/6
05 op. 33/7
06 WoO 56
07 op. 119/1
08 op. 119/3
09 op. 119/4
10 op. 119/5
11 op. 119/7
12 op. 119/8
13 op. 119/9
14 op. 119/11
15 op. 126/4
---
There are currently no reviews for this product.
[Tell us what you think]