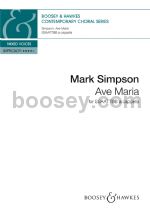 Simpson, Mark - Ave Maria (SSAATTBB a cappella)
description: SSAATTBB
ISMN 9790060135620
ISBN 9781784544836
Publisher
Availability: Stock Title

for mixed choir (SSAATTBB) a cappella
Text: Latin
Duration: 4 minutes
Difficulty: 4/5
Ave Maria was commissioned by ORA100 for Suzi Digby OBE and the singers of ORA and first performed on 22 February 2018 by ORA Singers, conducted by Suzi Digby, in Manchester Cathedral.
Composer's note
This work comes from amazement – that the encounter with divine love, our relationship with the sacred, is to be constantly astonished by the endlessness of the depths of love. Love's persistence, again and again, whatever our failures to be people of love, is our reassurance of our precious and limitless value in the eyes of our Creator. And this mercy, this depthless mercy, frees us to be become ourselves most fully, seeking, uncertain, but tenacious pilgrims.
Text
Ave Maria, gratia plena, Dominus tecum:
benedicta tu in mulieribus,
et benedictus fructus ventris tui, Jesus.
Sancta Maria, Regina caeli,
dulcis et pia, O Mater Dei:
ora pro nobis peccatoribus,
ut cum electis te videamus.
Hail Mary, full of grace, the Lord is with you:
blessed are you among women,
and blessed is the fruit of your womb, Jesus.
Holy Mary, Queen of heaven,
sweet and good, Mother of God:
pray for us sinners,
that with the chosen we may see you.
Latin prayer (from the Gospel
according to St Luke)
Mark Simpson
Composer and clarinettist Mark Simpson (b?1988, Liverpool) became the first ever winner of both the BBC Young Musician of the Year and BBC Proms/Guardian Young Composer of the Year competitions in 2006. He went on to read Music at St Catherine's College, Oxford, and studied composition with Julian Anderson at the Guildhall School of Music & Drama, before being selected for representation by the Young Classical Artists Trust. Simpson was a BBC New Generation Artist from 2012–2014. He received a Borletti-Buitoni Trust Fellowship in 2014 and the Royal Philharmonic Society Composition Award in 2010, and is a Visiting Fellow of Lady Margaret Hall, Oxford. In 2015 he was appointed Composer in Association of the BBC Philharmonic for a period of four years.
There are currently no reviews for this product.
[Tell us what you think]