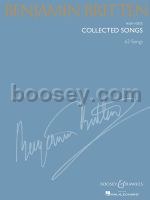 description: High Voice, Piano
ISMN 9790051933976
Publisher Boosey & Hawkes (New York)
Availability: Stock Title
63 Songs, with extensive historical introductory notes. Includes all art songs originally composed for voice and piano published by Boosey & Hawkes. The content is the same for the High Voice and Medium/Low Voice volumes, with newly published transpositions as necessary.
Contents

A Charm of Lullabies, Op. 41
Cut from Winter Words
Evening, Morning, Night (three songs from "This Way to the Tomb")
Fish in the unruffled lakes
On This Island, Op. 11
Sechs Holderlin-Fragmente, Op. 61
Seven Sonnets of Michelangelo, Op. 22
Songs from the Chinese, Op. 58 (transcribed for voice and piano)
The Birds
The Holy Sonnets of John Donne, Op. 35
Three Songs from "The Heart of the Matter" (with horn)
Two Ballads (duet)
Winter Words, Op. 52
---
There are currently no reviews for this product.
[Tell us what you think]