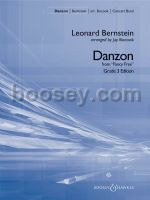 from "Fancy Free"
description: Wind Band
ISMN 9790051663194
Publisher Boosey & Hawkes (New York)
Availability: Stock Title
Influenced by the traditional Cuban dance style, Danzon is a brilliant piece composed by Leonard Bernstein in collaboration with famed choreographer Jerome Robbins for the 1944 ballet Fancy Free. Jay Bocook's skilled adaptation for band captures the sensual mood of the original and offers a unique programming choice. Grade 3 Edition. Dur: 3:00
There are currently no reviews for this product.
[Tell us what you think]