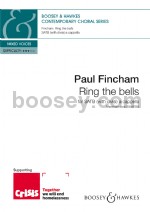 Fincham, Paul - Ring The Bells (SATB Divisi)
description: SATB (divisi) a cappella
ISMN 9790060135842
ISBN 9781784545024
Publisher Boosey & Hawkes (London)
Availability: Stock Title

for mixed voices (SATB with divisi) a cappella
Text: English (Paul Fincham)
Duration: 3.5 minutes
Difficulty: 3/5
Use: Christmas
Composer's note
Ring the bells was composed for the London Philharmonic Choir and first performed by them at the Royal Albert Hall, London on 20 December 2017, conducted by Toby Purser. With lively outer sections, a more contemplative middle section based around a chorale theme, and a cheeky bow to The Holly and the Ivy, the piece should be easily manageable by any good amateur choir. The piece has been adopted by the UK homeless charity Crisis and all composer royalties pledged to the charity.
Text
Ring the bells for Christmas, for Christmas is near.
Hear the bells for Yuletide, for Yuletide is near.
In Bethlehem is born a child,
Brightly shining star.
His name shall be Emmanuel, the Son of God on earth.
Let angels praise Him evermore, Alleluia.
Ring the bells for Christmas, for high days and holy days, for holly and the ivy days.
Paul Fincham
Paul started composing at an early age, composed a rock opera at school and went on to read music at Cambridge University where he was music director of Cambridge Footlights. After a first career unrelated to music he returned to composing in 2012. He has since composed an award winning film score and has recently completed a full length youth opera called The Happy Princess with a libretto by Jessica Duchen (after Oscar Wilde) to a commission from Garsington Opera, premiered at Wormsley Park in summer 2019. Ring the bells is his first Christmas carol.

Customer Reviews
"A brilliant carol which my 'good amateur choir' (Tonbridge Community Singers) will enjoy learning and singing around Tonbridge. Thank you Mr Fincham"
[Tell us what you think]