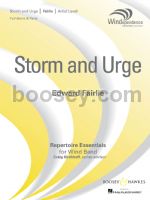 Fairlie, Edward - Storm and Urge
description: Wind Band (score & parts)
ISMN 9790051663279
Publisher Boosey & Hawkes (New York)
Availability: Stock Title
Edward Fairlie's Storm and Urge is a significant work for wind band and portrays a journey of emotional turbulence. The title comes from the German "Sturm und Drang," a literary and musical movement of the late 1700s which focused on extremes of emotion. Opening with a simple and reflective theme, we are then taken through a range of emotional settings from uncertainty to resistance, and then calm resolve and self-knowledge. With a variety of textures and vivid imagery, this is a masterful work for the contemporary ensemble.

(Recorded by the University of Minnesota Wind Ensemble – Ingrid Martin, conductor)


View score with recording:


There are currently no reviews for this product.
[Tell us what you think]