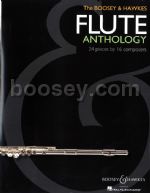 Various - The Boosey & Hawkes Flute Anthology
24 Pieces by 16 Composers for Flute & Piano
description: Flute, Piano
ISMN 9790051105359
Publisher Boosey & Hawkes (New York)
Availability: Stock Title
Level of Difficulty: Intermediate
Intermediate to advanced literature from the Romantic era to the 20th century. Special study paid to various state high school contest solo repertory lists. Includes works by Alwyn, Bartók, Copland, Ireland, Jolivet, Prokofiev, Rouse, and others.
Contents

01 Gavotte and Musette from Divertimento (Alwyn)
02 Chants populaires tristes from Suite Paysanne Hongroise (Bartók)
03 Scherzo from Suite Paysanne Hongroise (Bartók)
04 Vielles danses No. 9 from Suite Paysanne Hongroise (Bartók)
05 Aubade (Butterworth)
06 First Movement from Duo for Flute and Piano (Copland)
07 Vocalise (Copland)
08 Acrostic Song from Final Alice (Del Tredici)
09 Piece No. 1 (Ferguson)
10 For You, Anne-Lill, Op. 58 (Górecki)
11 Valentine Piece, Op. 70 (Górecki)
12 In Ireland (Harty)
13 The Holy Boy (Ireland)
14 Pour que l'enfant qui va naitre soit un fils from Cinq Incantations (Jolivet)
15 Pour une communion sereine de l'etre avec le monde
16 Reflections (Lamb)
17 Duo for Two Flutes (Lees)
18 Soliloquy Music from King Lear (Lees)
19 Visions Fugitives, Op. 22 (Prokofiev)
20 Rhapsody on a Theme of Paganini, Op. 43 (Rachmaninoff)
21 Vocalise, Op. 34, No. 14 (Rachmaninoff)
22 Undine Sonata, Op. 167 (Reinecke)
23 Fifth Movement from Flute Concerto (Rouse)
24 Valentine (Rouse)
---
Press Reviews
There is a broad cross-section of 20th century composers, with several short works which might well grace a recitral programme. This is a 'good value' volume, with some really interesting music unknown to players on both sides of the pond.
The Boosey & Hawkes Flute anthology has much to offer the intermediate to advanced level player, providing a selection of interesting material outside of the standard flute repertoire. It promises hours of enjoyment, challenges and rewards.
Definitely worth looking at, this is a really good collection of Flute pieces from the Romantic era to 20th century that could add to any grade7+ student's music shelf. This is a very welcome publication, it is superb value for money. Thanks Boosey & Hawkes.
[Tell us what you think]