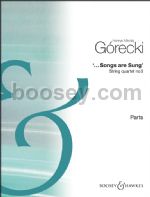 String Quartet No. 3
description: String Quartet (parts)
ISMN 9790060119750
Publisher Boosey & Hawkes (London)
Availability: Stock Title
In spring 2005, after thirteen years of persistence, patience, and cancelled performances, the Kronos Quartet finally received the score to Henryk Górecki's Piesni Spiewaja ("…songs are sung"), String Quartet no 3, op 67 - a 50-minute magnum opus (originally commissioned in 1992), with the dedication, "To the Kronos Quartet, which for so many years has waited patiently for this quartet." The quartet's title is inspired by the last line of a poem by the Russian poet Velimir Khlebnikov, "When people die, they sing songs." Set of parts.
Contents

01 Adagio - molto andante - cantabile
02 Largo, cantabile
03 Allegro, sempre ben marcato
04 Desciso - espressivo ma ben tenuto
05 Largo - tranquillo
---
There are currently no reviews for this product.
[Tell us what you think]